Interpak - PA30 and Plastazote
Plastazote is the top of the range when it comes to Polyethylene Foams. A High Density closed cell foam - it is frequently used to protect " High End " products in Flight Cases / Display boxes - to add a High Quality feel to the pack. The outside of the foam feels very smooth to the touch . It can also be pressed ( Diecut ) or Routed and fabricated as shown below to make very intricate shapes. A lot more expensive than Stratocell
( but not a lot better protection ) choose this if you need the best VISUAL finish to your foam packs - but be prepared to pay a premium.

PA30 is a cheaper alternative than Plastazote with a similar closed cell feel to it. Please feel free to call and discuss any aspect of display foam with us.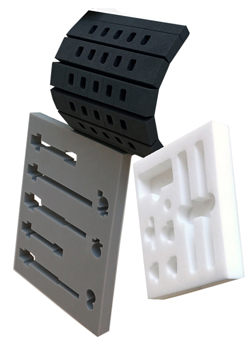 Plastazote Inserts
This foam is closed cell and looks great. Available in a wide range of colours - it can be CNC routed, Waterjet cut or pressed to give very accurate shapes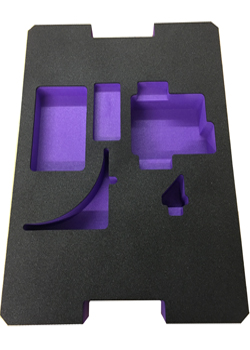 Plastazote layer 1
This is the 2nd layer in this pack with more component storage. By using 2 colours of foam - it is also easy to spot if a item has been left out of the pack - as the Purple will show through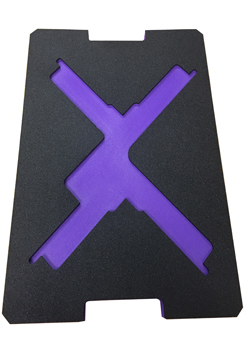 Plastazote Lid
This layer has been CNC routed to fit around a complicated component and sits at the top of the pack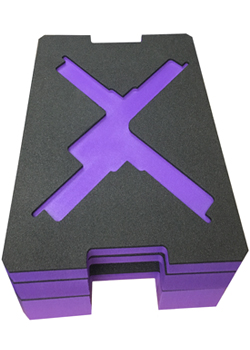 The Full Pack
All 3 trays stacked together. Note the Handles which have also been routed into each piece to facilitate simply access to all items inside the case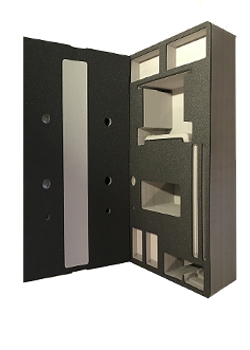 Plastazote Inserts
Plastazote can be CNC routed, Waterjet cut or pressed to give very accurate shapes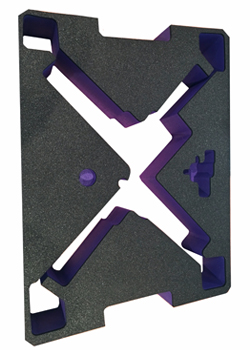 CNC Routed Plastazote
Example of CNC Routed foam layer using two colours .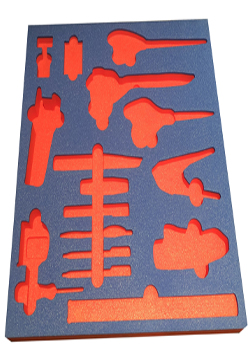 CNC Routed Tool Tray
This tray has been CNC routed and uses 2 colours so the operator can easily see if a tool is missing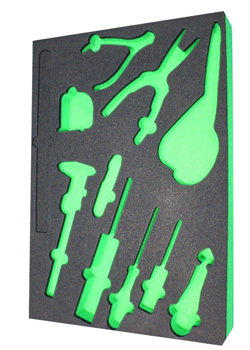 High End Tools Pack
Another example of a dual colour CNC routed tray in Plastazote - High Quality and looks great !